How Creative Generosity Can Prevent Loneliness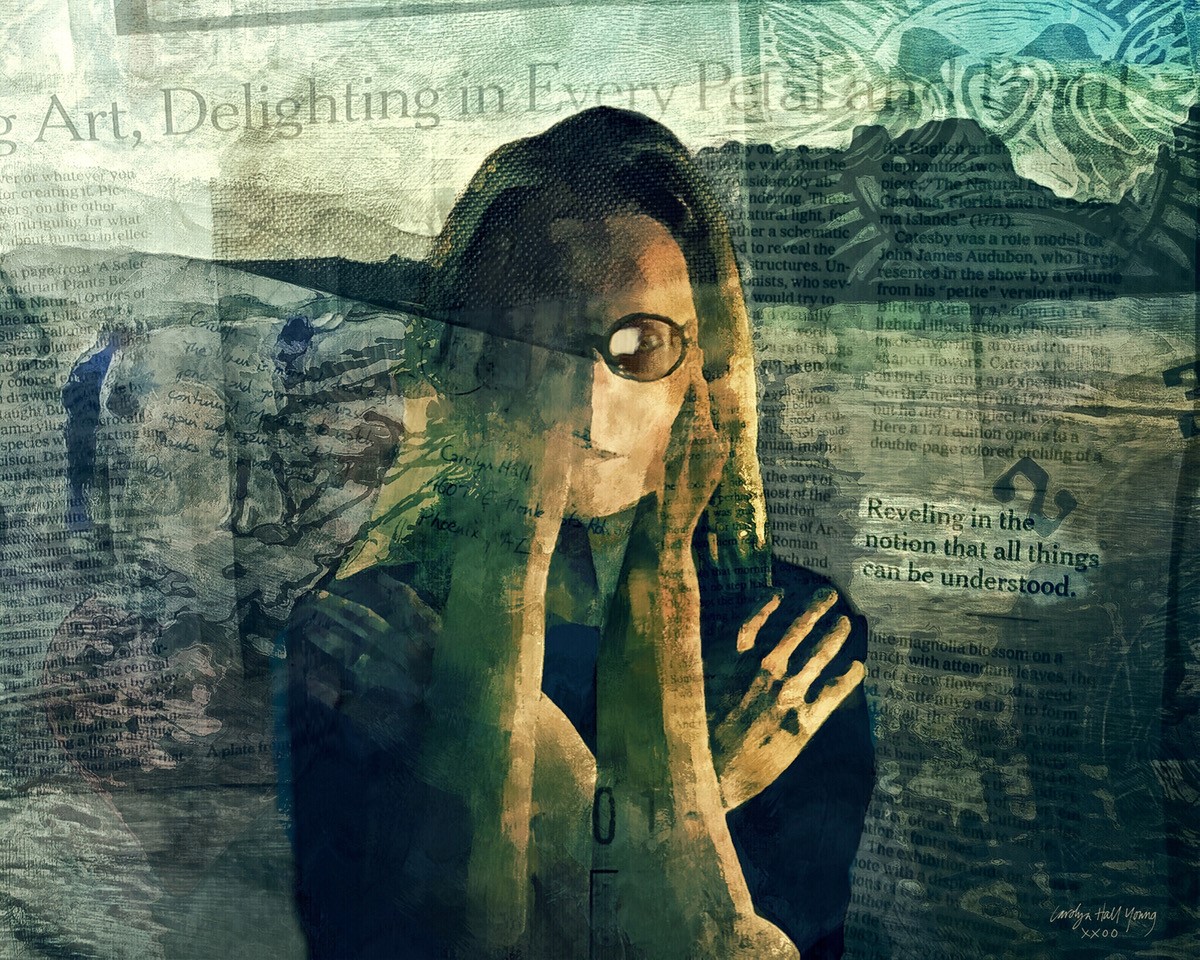 Originally published in Change Your Mind-Change Your Life
This year is taking a dangerous toll on our social lives. Rates of loneliness and
depression
have spiked since the start of the pandemic, and
teens, young adults
and the
elderly
are especially vulnerable. This shouldn't surprise us, since human beings are social animals; we're wired to be in physical proximity with each other and to need social contact. But many people with chronic and serious illnesses have been grappling with the social challenges of quarantine for a lot longer than six months.
It makes sense, then, to look to these lockdown masters for social survival lessons.
My late friend, the artist Carolyn Hall Young, was one of these masters. For nearly thirty years — half her life — Carolyn lived with stage-four non-Hodgkin lymphoma. On multiple occasions, after enduring high-dose chemo, she would need to self-isolate for weeks. Over her last dozen years, she rarely saw anyone but her husband, or left their ranch outside Santa Fe for anything but medical visits. Yet she was determined not to let her illness isolate her spirit or disconnect her from others.
Although Carolyn "left this planet," as she would say, in 2016, the lessons she taught me have served as my guiding lights during COVID.
Lesson 1: Be grateful
Carolyn lived by her mantra, never know what you'll get to be grateful for." She'd learned this as an artist transforming accidents on paper or canvas into elements of beauty. She'd learned it after the failure of a first marriage left her free to find the love of her life. This mantra also saw her through multiple rounds of high-dose chemo and any number of other treatments, experiments, and ordeals that caused indescribable suffering and helped her thrive decades longer than any of her doctors thought possible.

"You never know," Carolyn often repeated. "That moment might be horrible, but you've got to give thanks first and ask questions later."
Of all that she found to be grateful for, love and friendship ranked at the top of her list. So she made it a priority to stay in touch with people from every era of her life. She never forgot a name, and she could tell long detailed stories about virtually everyone she'd ever known. Each of these stories honored not only her friend but also the richness of her own past. Each of these stories reminded her how much she still had to live for.
Carolyn was also grateful that she'd lived long enough to take advantage of modern communications. Even when she couldn't meet her friends in person, she could call, text, exchange music and videos, and FaceTime. When she did connect, she demonstrated her gratitude by devoting her undivided attention to the other person. Our calls often lasted for hours, but we never multi-tasked while we were talking.
I've repeated Carolyn's gratitude mantra multiple times each day as an antidote to pandemic depression, and I strive to follow her example of being fully present and available to friends and family, no matter how far away they may be.
Lesson 2: Be of service
For almost as long as she lived with cancer Carolyn peer counseled other seriously ill patients. This gave her a reason to keep expanding her human connections and provided a sense of purpose that transcended her physical isolation. Researchers have proven that service is an effective antidote to loneliness. It worked for Carolyn, and it can work for us.
This may explain why volunteer rates have actually risen during the pandemic. People have made and donated masks, helped elderly neighbors with grocery shopping, launched funding campaigns to help beloved neighborhood restaurants and bookstores survive, and volunteered to grow produce and help food banks feed families who've lost income due to COVID. It not only helps those in need; it sustains the volunteers.
Lesson 3: Be creative
Art came naturally to Carolyn, whose creative practices included painting, drawing, cooking, gardening, and writing every day. She understood that these forms of self-expression can help fend off loneliness and depression.
That therapeutic link is the basis for The Foundation for Art & Healing's' UnLonely Project, which promotes creative activities to reduce stress and anxiety and foster connection and resilience. When we create art, we engage in a different kind of conversation with the world around us. We not only express ourselves, but we invite others to respond.
Understanding this, Carolyn often turned to art as a means of healing both herself and others — for example, when one of those cancer patients she counseled didn't make it.
"When someone dies," she'd say, "I want to throw myself on the floor and wail. I want to scream and swear." Sometimes she did just that, but then she'd turn to her box of rubber blocks and start carving four-letter words backwards and reversed, preparing to turn negative space into positive imprints of solace.
LOVE was one of those four-letter words, along with HOPE, GOOD, RISK, LIFE, CARE, GIVE, HOLD, and FEEL. Backwards and reversed, the carved words became a metaphor for her emotions in grief. But then, as she pressed the inked blocks into paper, the letters would flip and emerge restored to their desired form and order.
She'd send these printed messages of mercy to the bereaved family, and the art would bring them all together. It helped everyone.
Lesson 4: Be generous
When Carolyn's cancer progressed, the risk of infection and the loss of physical energy meant that she spent most of each day in bed, effectively quarantined. This situation would defeat many people, but Carolyn had been a pioneer in the field of car audio design, and her technical curiosity now allowed her to turn mobile digital art into a means of staying creative and connected, even when she lacked the strength to pick up a paint brush.
For Carolyn, the whole point of making art was to give it away. Burning her way through several generations of iPads and a multitude of mobile art tools and apps, in her last five years she produced more than 1600 digital portraits for friends and acquaintances around the globe, many of whom she'd never physically met.
Often, these portraits incorporated elements of the person's life that could not be photographed. The portrait that Carolyn made of me included a pigeon and lettering that spelled out the magnanimous phrase, infinite goodness has such wide arms, but also featured two black crows and a telegram from Dorothy Parker to her editor despairing about ever finding the right words. Carolyn was too keen an observer and too close a friend to leave out the challenging aspects of my nature, but in typical fashion she converted them with love into elements of grace.
Carolyn also gave her paintings to the wider world, via Facebook. Each gift expanded her global circle of friends. Even though Carolyn couldn't travel, her work won awards in mobile digital art competitions from Kansas City to Florence, Italy. And she worked closely with app designers on multiple continents, volunteering to beta test their cutting-edge models and suggesting tweaks to improve the apps.
This year, as the pandemic closed in, I followed Carolyn's example in my own fashion by creating and offering daily art photographs on Instagram. In the process I connected with a scattershot group of other writers and artists who were on the same wavelength. Perhaps one day, when we can physically meet, we'll mount a group show of our photos. In the meantime, we communicate several times a day through our art.
Lesson 5: Be self-transcendent
Carolyn's gift for connection extended to complete strangers. One day, shortly after she returned home from an excruciating radiation treatment, a telephone repairman arrived to fix her phone. As he worked, he revealed that he was wrestling with some difficult life decisions. Most people in this situation would be too preoccupied with their own pain or loneliness to care about the repairman's problems. Not Carolyn.
"Ask yourself what you want," she told this stranger. "Most people only want what they think they want. Don't think. Feel. Whatever you truly feel you want, make that happen."
This advice, to tap into the feeling that turns thinking into love, caused the repairman to reevaluate all of the choices before him. He was one of many whose chance encounter with Carolyn transformed his life. But that encounter helped her, too, by lifting her temporarily out of her own pain and reminding her that she was neither helpless nor suffering alone.
I've returned to this story many times during the long and frustrating weeks of this pandemic. It's motivated me to reach out to neighbors, to chat with strangers, to take extra time with my students as they struggle with work, school, childcare, job loss, and the many natural disasters this year has thrown at them. It's challenged me to reach out to friends I haven't seen in decades and to stay in more regular touch with my closest acquaintances by whatever means are safe.
What all this fosters is a sense of belonging. To each other. To the world. And to ourselves. That's why we need to stay connected. Take it from a master.

---