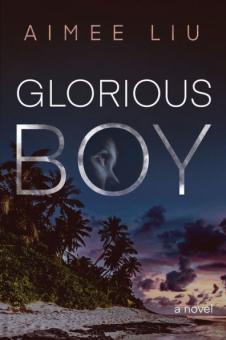 Now available as an audiobook!
"The most memorable and original novel I've read in ages… evokes every side in a multi-cultural conversation with sympathy and rare understanding."
– Pico Iyer, author of Autumn Light

Finalist for the 2020 Staunch Book Prize
BOOKLIST'S TOP 10 HISTORICAL FICTION OF 2020
"
For readers who are unafraid to be swept away."
Starred review,
Booklist
*
"
R
iveting... a fascinating, irresistible marvel.
"
Starred review

,
Library Journal*
Brit+Co's 12 Books That Will Take You on a Literary Vacation
---



A tale of war and devotion, longing and loss, and the power of love to prevail…
"Reminiscent of the tone and atmosphere of Somerset Maugham and George Orwell's Asia-set novels, Glorious Boy is a Second World War story of adventure and loss, uniquely set in the Andaman Islands, one of India's farthest flung territories" – Asian Review of Books

"In 1942, Claire Durant waits with her husband and young son for the all-clear to leave the Andaman Islands, where they've been stationed since 1936. The Andamans, east of India in the Bay of Bengal, are home to a colony of Burmese and Indian convicts as well as the native people, the Biya. Claire, a budding anthropologist, has been studying the Biya and getting to know them, but as WWII intensifies, she has no choice but to leave the people she loves. There is one other complication: Naila, their young servant, has a special relationship with Claire's son, Ty. And when Naila disappears with Ty, there's no telling what will happen to the family as they are wrenched apart. This fascinating novel examines the many dimensions of war, from the tragedy of loss to the unexpected relationships formed during conflict. The Andamans are a lush and unusual setting, a sacred home to all kinds of cultures and people, and Liu's prose is masterful. A good choice for book groups and for readers who are unafraid to be swept away." --Booklist STARRED review
---
Subscribe to Aimee's newsletter HERE
---
To read an Excerpt from Glorious Boy