A book promotion 101 lesson from Oprah herself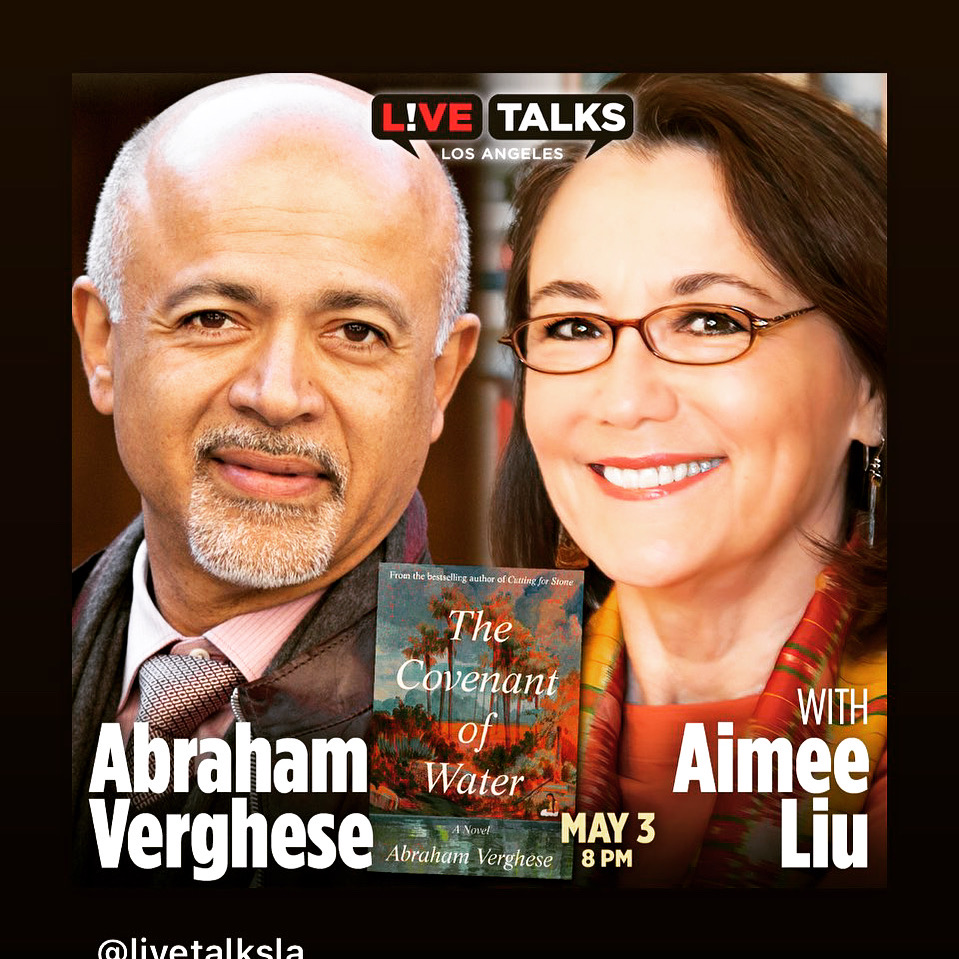 You know what they say about best laid plans? Well, that goes double when Oprah calls. Even when she doesn't call you.
Last week I was thrilled to be asked to "chat" onstage with novelist and physician extraordinaire Abraham Verghese for the series Live Talks Los Angeles. Though I'd never before met him, I'd loved Verghese's first novel, Cutting For Stone, when it came out a decade ago. I'd traveled in Kerala, India, the location of his new novel, The Covenant of Water, and I'd written two novels of my own about India during the same turbulent colonial period when most of this story takes place. So I knew we'd find a lot to talk about.
I've interviewed others for Live Talks, including Aimee Tan and Pico Iyer. I prepare diligently for these events, both as a sign of respect for the authors and also as the best strategy for managing my own stage fright before large audiences. For this conversation I needed to inhale all 724 pages of The Covenant of Water inside of a week. I had to get cozy with more than 30 key characters and their masterfully interwoven plot lines. I needed to absorb the whole multi-generational saga so I could discuss its vast scope and humanity in detail. Or so I thought.
What I didn't know was that The Covenant of Water would be selected for Oprah's book club the week of our chat. And what I didn't factor into my preparation was the fact that we'd be discussing the novel just one day after its publication date.
Before I tell you why these facts mattered, let me share my prep with you. Maybe you'll be able to see what I was getting wrong.
My game plan
Fortunately, Dr. Verghese's 724 pages are so lush and compelling that it was a pleasure to drop everything and immerse myself in his fictional world for a week. When I emerged, the structure for our conversation seemed obvious.
Story
We'd spend the first part of our chat discussing the story, which I planned to introduce as:
An epic family saga encompassing 3 generations across 7 decades, from Kerala and Madras in India to Glasgow in the U.K. The story opens in 1900 with the arranged marriage of a 12-year-old girl to a 40-year-old widower in the backwaters of Kerala, in southwest India.
Obviously, we couldn't cover this tale in detail, but I thought some clever questions about the first sections and main characters might intrigue the audience. For instance:
Why does the CHILD WHO ANCHORS THE WHOLE BOOK GO UNNAMED for several chapters?
One of the first characters we meet is the ELEPHANT DAMODARAN, OR DAMO. How do you view his role in the book?
In Book One we're introduced to the strange family curse that causes a death by drowning in every generation of this family. How did THE CONDITION come to play a critical role in this story?
Book Two carries us far away in 1919 to Glasgow, where we meet the novel's second most important character, Digby Kilgour. WHY GLASGOW?
By this time, I figured the audience deserved to hear some of Verghese's lovely prose. So I planned to inject an observation of my own, that when his character Digby moves to India, he brings a foreigner's sense of wonder and newness to the experience, as in this brief passage in which Digby observes a tea plantation in monsoon season:
The next morning the monsoon ceases as though a switch was flipped, the incessant drone of rain on the roof silenced. For so many weeks, Digby's view was of swirling mist or, rarely, when the clouds settled in the valley, he'd be staring down like Zeus at the tops of cumulus and thunderheads. When he steps out, it's bright and sunny; the processing sheds and the thatch of the clinic have the soaked, bedraggled look of the pariah dog caught without shelter. Despite the landslide, his spirits soar.
If I had to pick one over-arching idea that this novel is "about," I planned to say, it would be the importance of maintaining a sense of wonder and awe in the ordinary. "Would I be wrong?" I'd ask.
Themes
That was as far as I dared go with the story, but the book is so rich in themes that this seemed a natural segue. So I scripted questions around:
The metaphor of water
Possible linkage between issues of caste & the role of leprosy in the story
The book's emphasis on empathy in art & medicine
The power of stories and storytelling, as demonstrated by the characters
Structure
The Covenant of Water is a huge, sprawling web of a story. I wanted to ask Verghese how he kept track of more than 30 key characters and how he decided where to cut his action.
I wanted to address the fluidity of time in the novel, how he decided when and where to jump backward or forward, often decades in a paragraph.
Writing process
And finally, the most obvious question of all: Dr. Verghese is a world-renowned practicing physician, professor, and faculty fellow at Stanford. How on earth does he manage his TIME AND FOCUS to produce a fictional magnus opus, on top of all his other duties?
Oprah says
The evening of our chat I arrived early, but Abraham, as I was invited to call him, was earlier. Elegant in a jacket of midnight-blue velvet, soft-spoken and humbled by the enormous gift of Oprah's favor, he'd just come from dinner with the literary godmother herself. And she had schooled him for our staged conversation.
"I've done two advance events for this book," Abraham told me. "Both times I read a passage and talked about the story. I watched the audience's eyes glaze over." Oprah had explained why. "The book was just published yesterday. No one has read it yet. They can't follow what I'm talking about."
Oprah, he said, had firmly instructed him, "People want to know about you, what inspired you to write the book, what your life is like, how medicine informs your writing. The more they know about you, the more eager they'll be to read your book, but they won't be ready to hear you talk about the story until they've read it."
I balked, seeing all my preparation slide down the drain. Surely my opening questions would intrigue people? No. Abraham was emphatic. We mustn't start with the story or discuss it in detail.
"How about themes?" I tried. "Generally speaking?"
He looked doubtful. "Maybe later in the chat?"
The thing was, he informed me, Oprah was planning to be in the audience. Incognito, but still. He had several events to do with her as part of the Book Club, and she wanted to make sure he was following her advice.
Nothing wasted
I realized I was going to have to flip my script, then truncate it, then improvise.
We climbed up on stage in front of a full house of well over 100, all devoted fans of Dr. Verghese who had the new book in their laps (it came with their tickets to the event). Some were reading it as they waited for us to begin. But Oprah was right: they weren't there for a discussion about the story.
"Congratulations!" I launched us. "For most authors, having a book selected for Oprah's Book Club is like winning the Nobel Prize. How did it feel to get the news?"
Abraham's genuine awe and delight at this honor was infectious. He acknowledged Oprah in the audience, though she was masked and I don't think many spotted her. I was glad I couldn't find her. I told myself she hadn't come, and that made me less nervous.
Following her guidance, though, I asked my last planned questions first, about Abraham juggling time and focus as both writer and doctor. His love of his twin crafts poured out, and the audience was enthralled. The two passions fed each other, he said. He spoke easily, fluently, about the need for empathy in both practices.
This was his show, not mine, and I shouldn't have worried.
The conversation flowed to his mother's life story, his grandmother's experience of Kerala, both of which inspired Covenant. We talked about the friends and advisors who helped him with Glaswegian dialect. We discussed themes in the book that lined up with his medical practice and philosophy, his love of literature, his compassionate view of humanity.
One of my last questions had to do with Abraham's use of a whiteboard to outline his plot. He lamented that he would meticulously diagram his narrative plan, including little drawings, but within weeks the plan would change. Then he'd photograph the board for reference and wipe it clean to start all over again.
"I'm afraid I waste a lot of time on those outlines," he said.
But I disagreed. I have much the same process, I told him, only using a bulletin board.
"I think it's the mental process of visualizing the plan while you're physically organizing it that matters," I said. "After mine is up I never look at it until I notice that it's all changed. But it still served its purpose of getting the whole book in my head at once."
Only after the evening was over did I realize that all my planning for this conversation had been like outlining it on a big board. Writing out my game plan had gelled the overall picture in my mind, so that I then felt secure enough to rearrange, discard, or revise the component parts.
In other words, only by preparing could I let go of my preparation!
Oprah slipped out of the room that night before I ever saw, let alone met, her. She'd never meant her interview tips for me. I'm still grateful for them, though, and for the chance to meet Abraham Verghese and his beautiful work.